'Veiled in this fragile filigree of wax is the essence of sunshine, golden and limpid... Honey, even more than wine, is a reflection of place...
(it) is the flower transmuted, its scent and beauty transformed into aroma and taste'
Honey from Flower to Table, 2002, Stephanie Rosenbaum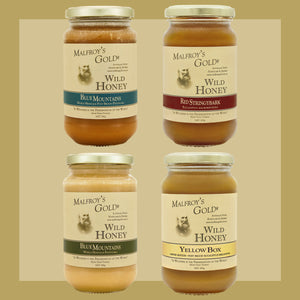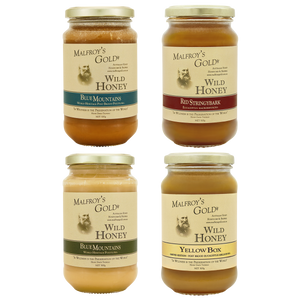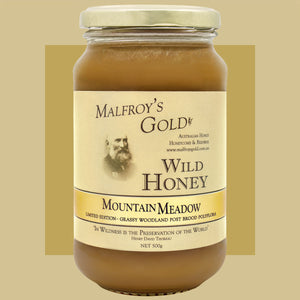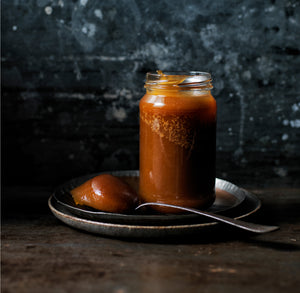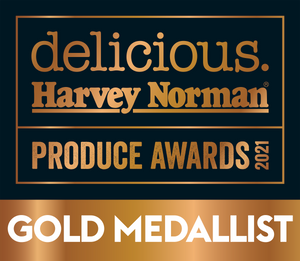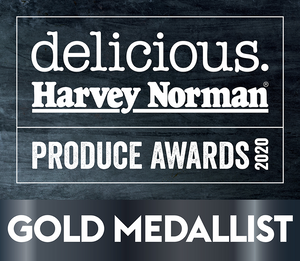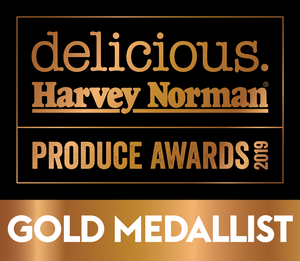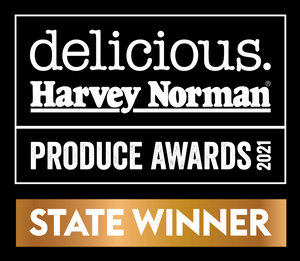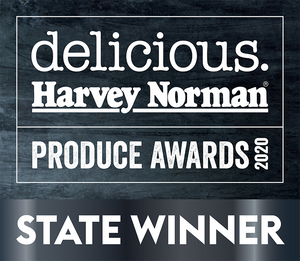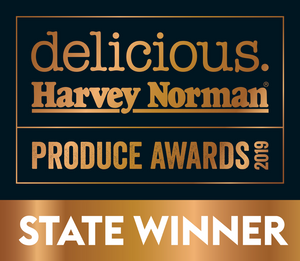 • Gold Label Range featuring rare seasonal varieties
• Produced in bee-friendly Warré hives
• Produced from 100% natural comb
• Medicinally active (ranging from TA 21+ to TA 39+)
• Exceeds Biodynamic and Organic standards
• Cold pressed (not heated above bee colony temperature)
• Produced in permanent apiaries in isolated wilderness and woodland locations
• Honey is only sourced from our own 300 Warré hives
• Delicious Produce Awards Gold medal winner 2019, 2020 and 2021
Tasting Notes by Mike Bennie
Mike Bennie, Australian Writer, Public Speaker and Wine Journalist
Instagram: @mikebennie101
Yellow Box Post Brood
Flavours: This is the first time that post brood honey has been produced from Yellow Box honey flow under the custodianship of the Malfroy family. It's a generous mouthful of flavour, slippery with golden syrup flavours spiked with cinnamon spice with preserved lemon, ripe stone fruit, agave nectar characters woven through. Exotic in a way, but distinct for its richness of true, pure honey character and splendid in its light, honeysuckle floral lift of freshness to finish. Ultimately, a very complex, compelling honey.
Colour: Deep golden colour
Texture: The swish of rich caramel, with faint toffee-like stickiness
Aromas: Apricot tart, chamomile tea, crème brulee, an exotic whiff of sweet paprika, orange blossom, faint eucalyptus piquancy
Blue Mountains Polyflora (2023 Vintage)
Flavours: The new vintage of this seasonal wildflower honey heralds in a lifted, floral element, Anzac biscuit sweet-savoury-salty notes, Jaffa sweets, raw sugar and eucalyptus lift with some faint bush pepper characters, and a bergamot tea-like finish amongst caramel sweetness. Rich, round, rollicking and exuberant yet definitively complex and layered in its elements. There's intensity here but also gulpability! It feels distinctly nutritional and wildly delicious.
Colour: Pale golden-amber, pleasingly cloudy and faintly speckled
Texture: A delightful gummy pucker after each mouthful, but mostly seamless and smooth, despite fine granular elements
Aromas: Dried apricot, Paperbark tree bark, orange blossom, molasses, wet slate, woody spices
Blue Mountains Polyflora (2022 Vintage - Sold Out)
A come-hither style honey that is evocative of place, with a coolness, floral lift and sense of 'Aussie bush' amongst its richer, sweeter elements. A softness in some regards, but detail in the flavours, with potent, lifted spice notes a feature. The fragrance is gentle but invites you in with sweet, candied characters and its lift of floral and alpine herbs. Such a complete honey and ultimately 'high eatability' in its feel.

Colour: Fudge golden
Texture: Supple, waxy and ultra-mouth-coating
Aromas: Sandalwood, alpine herbs, lemon-ginger tea, paperbark tree bark
Flavours: Lemon-ginger with a lift of piquancy, cinnamon spice, light caramel and white chocolate is strong from mid-palate through the finish
Blue Mountains Polyflora (2020 Vintage - Sold Out)
Feels regal and very rich but the 'eatability' of this honey is extraordinarily high. An almost medicinal character here, but the main qualification of this honey is incredible texture and mouth-coating generosity all the while retaining a sense of freshness and lift. More subtle, savoury aromas, flavours make a big impact and linger emphatically.

Colour: Vintage gold, thick-cloudy
Texture: Dense, slippery, velvety, sticky
Aromas: Honeysuckle florals, lemon blossom, crushed eucalyptus leaf, stewed apple
Flavours: Preserved lemon, white chocolate, Parisian almonds, mint, alpine herbs and finishes with toffee-like flavours
Red Stringybark
Flavours: An incredibly rare honey sourced from honeyflows that come from flowers that emerge once every decade or two. Contains around half post brood combs and half virgin combs. More lemon myrtle and ginger to taste with distinct floral lift, some exotic spice, lots of caramel and toffee, almost rose hip tea-like characters, sweet but with that similar earthiness of the bouquet. Texture is amazing, concentrated, palate-staining and lifted with a barely-there pepperiness and again, that burr of granular chomp that feels almost suede. It feels nourishing and wildly delicious, something to be scoffed off your tablespoons.
Colour: Bronzed-gold
Texture: Almost chewy, with soft fudge-like texture yet a faint grainy smudge through it all
Aromas: Lemon myrtle, ginger, wattle seed, dried honeycomb and faint, sweet-earthiness
Blue Mountains Post Brood Polyflora
The full experience. A unique and outstanding expression of honey that finds few peers. Incredibly intense, raw feeling, creamy yet with light tannin grip and pucker. Generous scents and flavours of ripe fruits, caramels and baking spices. Glorious, complex expression.

Colour: Bronze amber, hazy-cloudy
Texture: Creamy, rich, lightly silty (pollen and propolis)
Aromas: 'Aussie bush' of paperbark, dried flowers, sweet earth, wild honeycomb, with ripe stone fruit, dried citrus and garam masala spice
Flavours: Dried stone fruits, arrowroot biscuit (sweet/savoury yeast/bread characters), maple syrup, choc-orange, brown sugar, alpine herbs
Just wanted to say thank you for holding such a high standard, quality and protection level for our bees. I am a plant based eater and will only consume this honey due to the standard in which you produce.

Floyd, Victoria, September 2020
Your wild honey is unbelievably delicious and nutrious. It makes our day. It is one of the best things we have eaten.

Juliette, Sydney, September 2020
Damn it's amazing! The flavor, the energy and nutrition is off the chart. I'm very grateful that you are out there doing this and can supply me with this treasure

Tim, Hong Kong, May 2021
Many thanks for your wonderful and amazing products. They have changed my health and life for the better.

Lorrae, Melbourne, September 2019
I have recently discovered your honey and just wanted to say thank you as it is the most delicious thing I have had…Really it's amazing. Also I read everything and more about the medicinal qualities so it's guilt free eating too...Thank you for doing what you do!

Briony, Sydney, February 2022
Wonderful stuff, totally unlike anything I've had before. Definitely a future pantry essential

Tim, Blue Mountains, August 2019
• Gold Label Range featuring rare seasonal varieties
• Produced in bee-friendly Warré hives
• Produced from 100% natural comb
• Medicinally active (ranging from TA 21+ to TA 39+)
• Exceeds Biodynamic and Organic standards
• Cold pressed (not heated above bee colony temperature)
• Produced in permanent apiaries in isolated wilderness and woodland locations
• Honey is only sourced from our own 300 Warré hives
• Delicious Produce Awards Gold medal winner 2019, 2020 and 2021
~ ~ •*• ~ ~
This pack features 4 x 500g jars of Wild, biodynamic honey harvested from bee-friendly Warré hives in the Blue Mountains and Central Tablelands, NSW Australia.
Medicinally active and cold pressed from 100% natural comb, this honey exceeds Organic and Biodynamic standards. Ethical, sustainable honey from natural beekeeping specialist Tim Malfroy.
We are excited to offer a mixed carton of 1 x Red Stringybark, 1 x Yellow Box Post Brood, 1 x Blue Mountains Polyflora and 1 x Blue Mountains Post Brood, giving you a taste of the Blue Mountains and Central Tablelands terroir.
Other versions of this 4 pack will be offered throughout the year as different varieties become available. For more information about each variety, please visit our Products page on the website.
Storage Instructions and Important Information
Store in a cool, dry and dark place. Best temperature range for storage and serving is between 15 and 25°C.
Our Wild Honey is bottled in glass jars and all orders are sent with Australia Post's 'special wine order - fragile' tape attached, which notifies Australia Post employees to carefully handle the parcel. We also take great care in packaging the product securely for transit.
Wild honeys from Warré hives contain bee bread (pollen fermented by beneficial bacteria) and propolis showing proven antioxidant and medicinal activity. In extremely rare cases, pollen can cause allergic reactions.
Please note: As our honey is seasonal, wild, harvested from small apiaries, and bottled in micro batches, natural variation in colour, texture and pollen richness will occur from batch to batch. The honey you receive may be a slightly different colour from that pictured above but is the same variety. We do not overheat, filter or homogenise our honey to make every jar uniform in colour and texture as that damages the nutritional integrity of the honey.
Malfroy's Gold, Warré Apiary, Central Tablelands NSW
Tasting Notes by Mike Bennie
Mike Bennie, Australian Writer, Public Speaker and Wine Journalist
Instagram: @mikebennie101
Yellow Box Post Brood
Flavours: This is the first time that post brood honey has been produced from Yellow Box honey flow under the custodianship of the Malfroy family. It's a generous mouthful of flavour, slippery with golden syrup flavours spiked with cinnamon spice with preserved lemon, ripe stone fruit, agave nectar characters woven through. Exotic in a way, but distinct for its richness of true, pure honey character and splendid in its light, honeysuckle floral lift of freshness to finish. Ultimately, a very complex, compelling honey.
Colour: Deep golden colour
Texture: The swish of rich caramel, with faint toffee-like stickiness
Aromas: Apricot tart, chamomile tea, crème brulee, an exotic whiff of sweet paprika, orange blossom, faint eucalyptus piquancy
Blue Mountains Polyflora (2023 Vintage)
Flavours: The new vintage of this seasonal wildflower honey heralds in a lifted, floral element, Anzac biscuit sweet-savoury-salty notes, Jaffa sweets, raw sugar and eucalyptus lift with some faint bush pepper characters, and a bergamot tea-like finish amongst caramel sweetness. Rich, round, rollicking and exuberant yet definitively complex and layered in its elements. There's intensity here but also gulpability! It feels distinctly nutritional and wildly delicious.
Colour: Pale golden-amber, pleasingly cloudy and faintly speckled
Texture: A delightful gummy pucker after each mouthful, but mostly seamless and smooth, despite fine granular elements
Aromas: Dried apricot, Paperbark tree bark, orange blossom, molasses, wet slate, woody spices
Blue Mountains Polyflora (2022 Vintage - Sold Out)
A come-hither style honey that is evocative of place, with a coolness, floral lift and sense of 'Aussie bush' amongst its richer, sweeter elements. A softness in some regards, but detail in the flavours, with potent, lifted spice notes a feature. The fragrance is gentle but invites you in with sweet, candied characters and its lift of floral and alpine herbs. Such a complete honey and ultimately 'high eatability' in its feel.

Colour: Fudge golden
Texture: Supple, waxy and ultra-mouth-coating
Aromas: Sandalwood, alpine herbs, lemon-ginger tea, paperbark tree bark
Flavours: Lemon-ginger with a lift of piquancy, cinnamon spice, light caramel and white chocolate is strong from mid-palate through the finish
Blue Mountains Polyflora (2020 Vintage - Sold Out)
Feels regal and very rich but the 'eatability' of this honey is extraordinarily high. An almost medicinal character here, but the main qualification of this honey is incredible texture and mouth-coating generosity all the while retaining a sense of freshness and lift. More subtle, savoury aromas, flavours make a big impact and linger emphatically.

Colour: Vintage gold, thick-cloudy
Texture: Dense, slippery, velvety, sticky
Aromas: Honeysuckle florals, lemon blossom, crushed eucalyptus leaf, stewed apple
Flavours: Preserved lemon, white chocolate, Parisian almonds, mint, alpine herbs and finishes with toffee-like flavours
Red Stringybark
Flavours: An incredibly rare honey sourced from honeyflows that come from flowers that emerge once every decade or two. Contains around half post brood combs and half virgin combs. More lemon myrtle and ginger to taste with distinct floral lift, some exotic spice, lots of caramel and toffee, almost rose hip tea-like characters, sweet but with that similar earthiness of the bouquet. Texture is amazing, concentrated, palate-staining and lifted with a barely-there pepperiness and again, that burr of granular chomp that feels almost suede. It feels nourishing and wildly delicious, something to be scoffed off your tablespoons.
Colour: Bronzed-gold
Texture: Almost chewy, with soft fudge-like texture yet a faint grainy smudge through it all
Aromas: Lemon myrtle, ginger, wattle seed, dried honeycomb and faint, sweet-earthiness
Blue Mountains Post Brood Polyflora
The full experience. A unique and outstanding expression of honey that finds few peers. Incredibly intense, raw feeling, creamy yet with light tannin grip and pucker. Generous scents and flavours of ripe fruits, caramels and baking spices. Glorious, complex expression.

Colour: Bronze amber, hazy-cloudy
Texture: Creamy, rich, lightly silty (pollen and propolis)
Aromas: 'Aussie bush' of paperbark, dried flowers, sweet earth, wild honeycomb, with ripe stone fruit, dried citrus and garam masala spice
Flavours: Dried stone fruits, arrowroot biscuit (sweet/savoury yeast/bread characters), maple syrup, choc-orange, brown sugar, alpine herbs