'Veiled in this fragile filigree of wax is the essence of sunshine, golden and limpid... Honey, even more than wine, is a reflection of place...
(it) is the flower transmuted, its scent and beauty transformed into aroma and taste'
Honey from Flower to Table, 2002, Stephanie Rosenbaum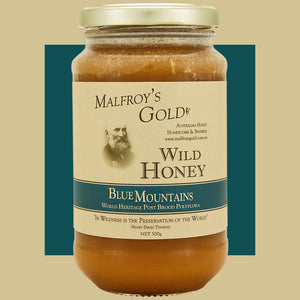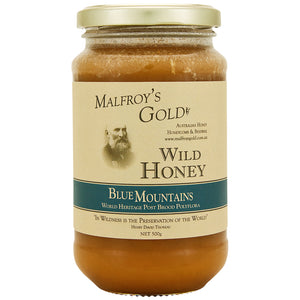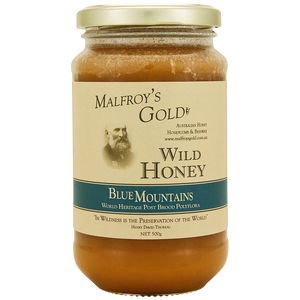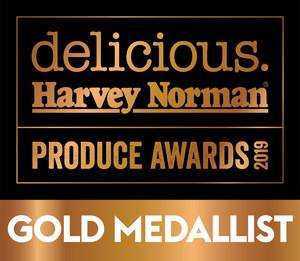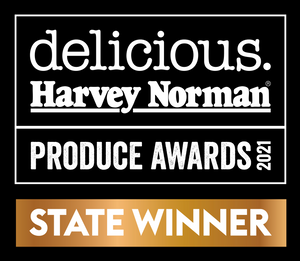 • Produced in bee-friendly Warré hives
• Produced from 100% natural comb
• Medicinally active (ranging from TA 21+ to TA 39+)
• Exceeds Biodynamic and Organic standards
• Cold pressed (not heated above bee colony temperature)
• Produced in permanent apiaries in isolated wilderness and woodland locations
• Honey is only sourced from our own 300 Warré hives
• Delicious Produce Awards Gold medal winner 2019, 2020 and 2021
Tasting Notes by Mike Bennie
Mike Bennie, Australian Writer, Public Speaker and Wine Journalist
Instagram: @mikebennie101
Blue Mountains Post Brood Polyflora
The full experience. A unique and outstanding expression of honey that finds few peers. Incredibly intense, raw feeling, creamy yet with light tannin grip and pucker. Generous scents and flavours of ripe fruits, caramels and baking spices. Glorious, complex expression.

Colour: Bronze amber, hazy-cloudy
Texture: Creamy, rich, lightly silty (pollen and propolis)
Aromas: 'Aussie bush' of paperbark, dried flowers, sweet earth, wild honeycomb, with ripe stone fruit, dried citrus and garam masala spice
Flavours: Dried stone fruits, arrowroot biscuit (sweet/savoury yeast/bread characters), maple syrup, choc-orange, brown sugar, alpine herbs
I received the post brood honey last night, wonderfully packaged, aroma took me away to a different world, was very impressed by the flavours and the texture which shows all of that nice, fine, silty goodness (a sign of all that good stuff preserved in the honey). I did mention that my mouth watered reading through the website of how you do things in your surplus only honey collection, I was even more impressed when it arrived. Great respect to you for what you do, in preserving this honey as 'medicine in a jar'. In my humble opinion, considering the medicinal rating of this honey and that you are competing with top end Manuka honey, the price tag you have is very modest, and you are not out to take advantage of people.

Mitchell, Mt Isa, February 2022
Hello, wanted to write and tell you how appreciative I am to discover your honey. I am a chef but hadn't heard about your product, until I saw it on Plat du Tour. I usually eat Pohutukawa honey, but not getting to NZ that finished long ago in the first lockdown. I've enjoyed all the honeys but especially the post brood. Thank you for such a great artisan product and a very informative website.

Catherine, Melbourne, August 2021
I tried the Blue Mountains post brood polyflower one and find it absolutely perfect. Beautiful taste and consistency.

Hans, Sydney, June 2020
The best honey I've ever tasted. Used some of your post brood honey in a cocktail recently and it was unbelievable.

Evan, Sydney, July 2020
The honey has arrived this morning and I've tried it on a toasted walnut sourdough - delicious! And I also had a spoonful by itself :) I also love the thick spreadable consistency! Thank you so much for your passion and dedication!

Daria, Queensland, May 2021
We are also running out of the last jar of post-brood wild honey we got from you and I must say that we have seen miraculous health benefits of it (it actually treated both myself and my wife's Flu that we got recently with only a few tea spoons of it in the morning, afternoon and night before sleep!). We appreciate your effort and love what you put into your bio-dynamic bee farming and these rare and excellent products.

Ali, Sydney, August 2019
• Produced in bee-friendly Warré hives
• Produced from 100% natural comb
• Medicinally active (ranging from TA 21+ to TA 39+)
• Exceeds Biodynamic and Organic standards
• Cold pressed (not heated above bee colony temperature)
• Produced in permanent apiaries in isolated wilderness and woodland locations
• Honey is only sourced from our own 300 Warré hives
• Delicious Produce Awards Gold medal winner 2019, 2020 and 2021
~ ~ •*• ~ ~
This pure Australian wild honey is produced from 100% natural comb in bee-friendly Warré apiaries in the Blue Mountains World Heritage area.
It is a unique honey harvested exclusively from 'post-brood' combs. Aged for up to 5 years in the hive, post-brood combs contain both the essence of the bee colony superorganism and the plants' nectar, pollen and 'kino' resins. We are the only commercial producer of this honey in Australia.
The combs are pressed at the end of the season. The liquid honey is settled and then bottled immediately into glass jars, where it sets into a smooth creamy texture.
Post brood combs contain the highest amounts of bee bread (fermented pollen) and propolis, resulting in an outstandingly rich and complex flavour.
Our honey has a rating of TA 26+ (equivalent to UMF 26+ / MGO 1282+). Eating small amounts regularly, straight from the jar should aid general health and wellbeing.
As our Wild honey is genuinely cold pressed from virgin comb it may be crystallised in the jar. Cold pressed honey often has a cloudy or opaque appearance and soft, thick, even texture with finely grained crystals.

Storage Instructions and Important Information
Store in a cool, dry and dark place. Best temperature range for storage and serving is between 15 and 25°C.
Our Wild Honey is bottled in glass jars and all orders are sent with Australia Post's 'special wine order - fragile' tape attached, which notifies Australia Post employees to carefully handle the parcel. We also take great care in packaging the product securely for transit.
Wild honeys from Warré hives contain bee bread (pollen fermented by beneficial bacteria) and propolis showing proven antioxidant and medicinal activity. In extremely rare cases, pollen can cause allergic reactions.
Please note: As our honey is seasonal, wild, harvested from small apiaries, and bottled in micro batches, natural variation in colour, texture and pollen richness will occur from batch to batch. The honey you receive may be a slightly different colour from that pictured above but is the same variety. We do not overheat, filter or homogenise our honey to make every jar uniform in colour and texture as that damages the nutritional integrity of the honey.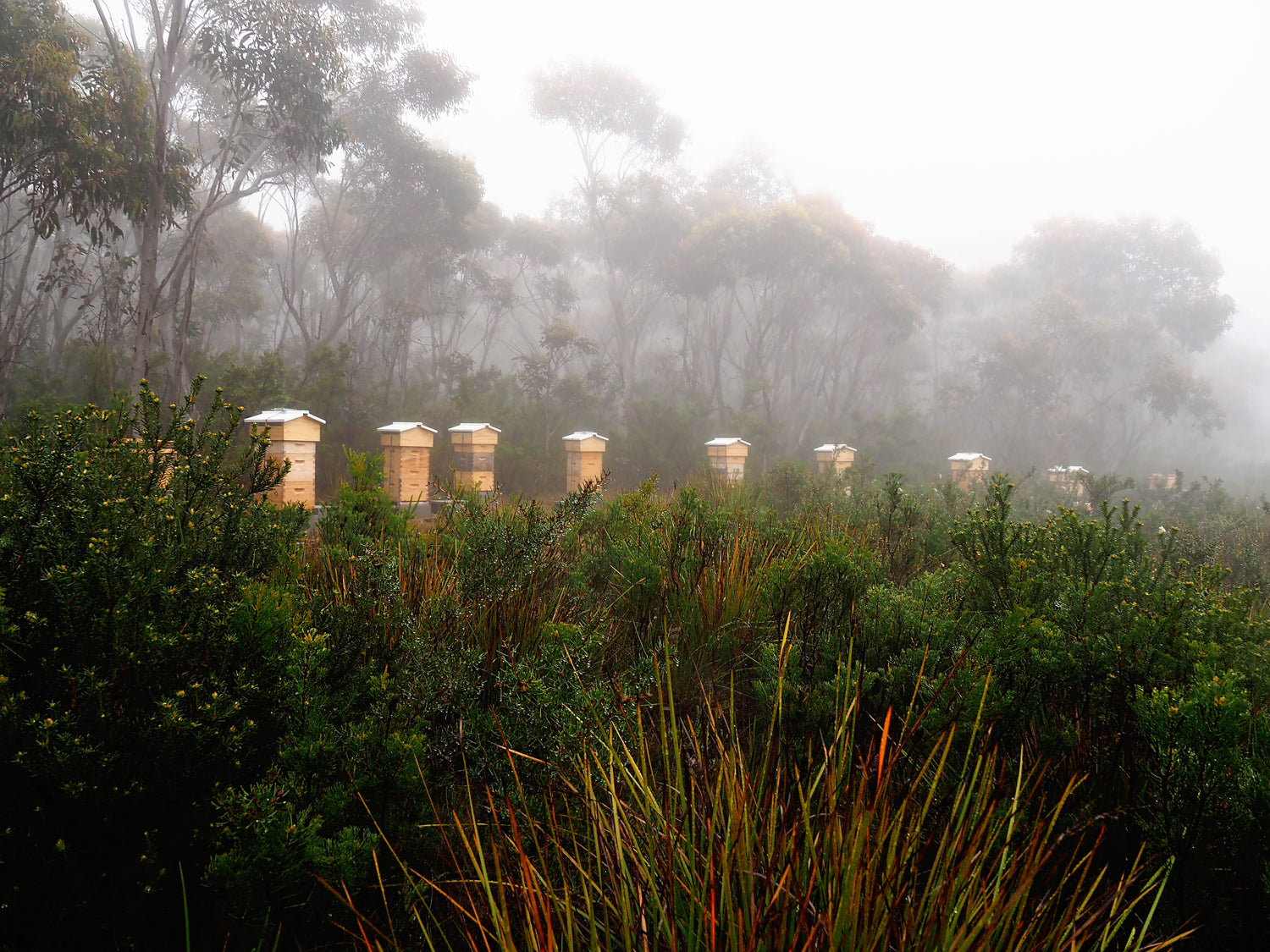 Malfroy's Gold, Warré Apiary, Upper Blue Mountains Heathland NSW
Tasting Notes by Mike Bennie
Mike Bennie, Australian Writer, Public Speaker and Wine Journalist
Instagram: @mikebennie101
Blue Mountains Post Brood Polyflora
The full experience. A unique and outstanding expression of honey that finds few peers. Incredibly intense, raw feeling, creamy yet with light tannin grip and pucker. Generous scents and flavours of ripe fruits, caramels and baking spices. Glorious, complex expression.

Colour: Bronze amber, hazy-cloudy
Texture: Creamy, rich, lightly silty (pollen and propolis)
Aromas: 'Aussie bush' of paperbark, dried flowers, sweet earth, wild honeycomb, with ripe stone fruit, dried citrus and garam masala spice
Flavours: Dried stone fruits, arrowroot biscuit (sweet/savoury yeast/bread characters), maple syrup, choc-orange, brown sugar, alpine herbs