photo © Eric Tourneret
'What men, in heaven's name, can we set alongside these insects which are superior to men when it comes to reasoning?
For they recognise only what is in the common interest'
Natural History, Pliny the Elder AD 77
Ethics and Sustainability
At all times we attempt to operate in an ethical and sustainable manner.

We take sustainability seriously and have developed a style of beekeeping and a small business model that places sustainability and ethical concerns at its heart.

In addition, sustainable living is not just part of our business model, it is a way of life we have appreciated since we were born.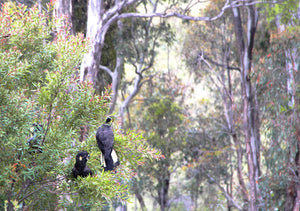 Ever since we established our business in 2006, we have allowed our bees the freedom to live their lives without intensive human constraints or management protocols. However, the
ethical matrix
(outlined in link on pages 3 and 4) as applied to beekeeping incorporates not just the bees, but the beekeepers, the community and the environment.
Therefore, we aim to provide a pure, therapeutically beneficial food to the community whilst caring for the bees in an ethical manner that respects their species specific needs. Any negative impact of the environment in minimised by locating apiaries in natural areas without changing the environment in any way and keeping hive numbers to a minimum (relative to the forage available in the surrounding environment). The apiaries are populated with colonies collected in bait hives from the surrounding area.
As the beekeepers, we have priced our honey in a fair manner that allows us to continue doing our work while keeping our products affordable. We insist on supplying our products exclusively to local, family owned shops, distributors and community run co-op's who have similar ethics to our own.
Natural Beekeeping represents a paradigm shift in apicultural practise, as it respects and supports the species specific needs of the bee colony superorganism. In stark contrast to conventional apiculture (which makes up the vast majority of the worlds honey production) natural beekeeping allows the core functions of the biology of honeybees, from reproduction, to population size and mix of genders, to nest building and genetics to develop naturally.
In his book 'The Bee-friendly Beekeeper: A Sustainable Approach', David Heaf writes in detail of the fundamental attitudes or moral stances that a beekeeper may hold, ranging from anthropocentric to eco-centric. Aside from small compromises – such as the use of 'open frames' that allow Warré hives to be used legally in this country (for the purpose of inspecting colonies as required by Australian beekeeping legislation), our approach can be defined as eco-centric (or api-centric).
Colonies are allowed to swarm (reproduce) naturally, and new hives are populated with swarms. The hives themselves are made of salvaged timber and are rough on the inside; this situation mimics the interior of a natural tree hollow and encourages propolis production, resulting in a healthy atmosphere inside the nest. Colonies are always allowed to build their own comb and the queen may roam anywhere within the nest. The bees build cell sizes of their choice, thereby determining the mix of male (drone) and female (worker) bees.
The colonies feed themselves exclusively with nectar and pollen gathered from the surrounding environment and grow in accordance with the availability of forage. We have never fed our colonies anything - sugar syrup, dry sugar or pollen patties. Despite never feeding hives, we haven't had a colony starve in the last 15 years as we always leave plentiful stores for the bees.
We practise minimal intervention – only opening hives when absolutely necessary, and during warm sunny weather when there is little disturbance to the colony. Small honey harvests are undertaken during large honey flows, when there is an abundance of food in the environment and a surplus of stored honey in the hive.
For more information, please visit the
Natural Beekeeping
and
Articles and Resources
pages.
'To be sustainable, a human activity should meet the needs of the present without compromising the ability of people elsewhere on the planet, or future generations, to meet their own needs' (D. Heaf, Towards Sustainable Beekeeping). In contrast to conventional apicultural practise, we minimise our environmental footprint at every step of the process from apiary establishment to packing and distributing the end honey product.
Our hives are made with timber from sustainable sources (predominantly salvaged timber) in contrast to modern hives made that are made from imported plantation timber, plastic or polystyrene, all with high embodied energy and carbon footprint. Our colonies are located in small, permanent local apiaries rather than migrated thousands of km's each year to increase yield.
Inside the hives, we allow the bees to build all their own comb – we do not use any artificial foundation wax or plastic – products that are not bee-friendly and have high embodied energy and carbon footprint. The bees feed on what they gather from the surrounding environment – they are never fed sugar syrup (which is all produced from industrial monoculture plantations), artificial pollen supplements or treated with any chemicals.
We harvest manually and gravity strain the natural comb to produce a truly natural, high quality and sustainable honey. This is a simple, labour intensive process that requires little energy or water compared to most commercial honey processing which involves a lot of electricity and water. As you can hopefully see, our process from apiary establishment to honey packing generates little waste and yields valuable products that are useful to the community as both food and medicine. Bees provide ecosystem services along the way, helping to pollinate many species of plants.
For more information please visit our
Natural Beekeeping
page.
LOCALLY BUILT, CUSTOM DESIGNED HIVES
All our hives are handmade 'in-house' in the Blue Mountains by our friend Bernhard Koch. We source the timber for the hives from sources in SE Australia and use predominantly salvaged timber – that is, timber from fallen farm or garden trees. In contrast, most hives in Australia are made from imported plantation timber, plastic or polystyrene.

The fallen logs, which were destined to be burnt or chipped, are processed at small rural mills and transported as green planks to our property. We air-dry the timber for at least 12 months and dress the timber to the finished size. We then grade the planks and turn what was destined to be a waste product into a beautiful, sustainable, long lasting home for our bee colonies.

All other hive components, including the small hive beetle bases, clearer boards and frames are manufactured in Australia and purchased from small family businesses in rural Australia. We assemble these items in the Blue Mountains.

The Warré hives we use are based on the original design, with modifications made by Tim Malfroy to suit Australian conditions and timber sizes.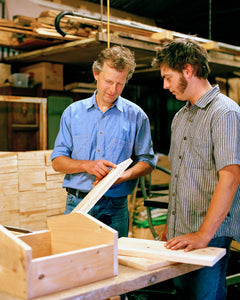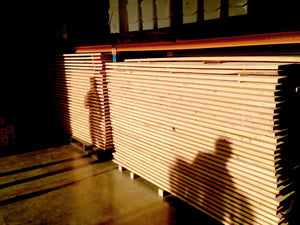 HIVES POPULATED WITH LOCAL SWARMS
Many beekeepers populate their hives with artificial swarms called 'packages' which are trucked hundreds of km's from apiary to point of sale and often include queens from different states. Queen culling also occurs on a yearly basis in established hives to maintain a docile, productive strain of bees, but this can have negative effects on the wider population of bee colonies.

All of our hives are populated with local swarms – a natural, sustainable resource available in the environment. Bait hives are put up in apiaries to mimic a tree hollow and when nearby colonies choose to reproduce, travelling swarms may select a bait hive as their new home.

This process of populating hives is ethically sound, as colonies are not only given freedom to live an unconstrained life (natural comb, natural swarming and other key elements of the life of the superorganism are encouraged) but are also allowed to choose their nest site when swarming and remain in the region where they have become adapted.
MINIMAL IMPACT ON NATURAL RESOURCES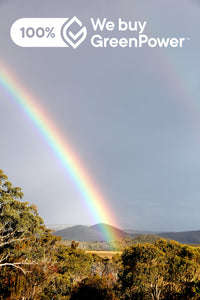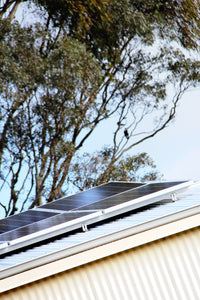 Our bee shed and home has a 7kW solar system that generates more than enough power for our needs most times of the year. Any additional electricity purchased is 100% certified green power.

Water usage for the business is minimal and supplied by rainwater catchment off the shed. Waste water is repurposed for use in the garden. All office paper and cardboard packaging is made from recycled materials and any waste paper/cardboard is reused for packing or other purposes and then recycled.
PACKAGING, PROCESSING AND LOGISTICS
Our packaging – glass jars, labels, cardboard cartons - are sourced from local Australian companies, minimising our carbon footprint (most packaging in Australia including glass jars are imported). The cardboard we use features a large percentage of recycled board.

We source local recycled newspaper to securely pack orders from our online shop.

Processing occurs in a small, insulated honey processing room. Very little energy or water is used in the process, as we mill and gravity strain the honey at ambient temperatures.  Conventional honey processing plants use large amount of energy for heating, pumping and centrifuging the honey.

We use a small, local courier business to deliver our honey products to shops – pickups occur only once a week. More than 90% of our honey is sold locally in the Blue Mountains and Sydney area. All pallets and packaging are re-used in the business.

The pre-industrial style of apiculture means there is very little waste produced or resources used. High value products are generated at every step of the process, from wild honeycomb to honey, propolis to beeswax and home-made honey drinks.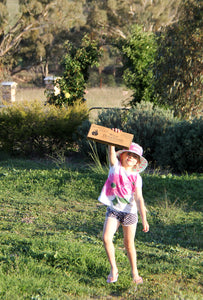 TREE PLANTING / ECO SYSTEM REGENERATION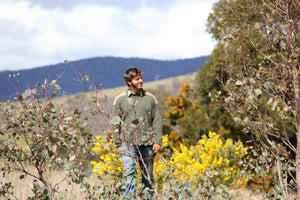 The species we plant on our property are endemic to the area and are carefully selected and sourced from a local small scale nursery.

The young plants are planted into deep pre-watered holes and then heavily mulched. Special tree guards are installed around them to assure survival (protection from wind, increased water retention, minimised damage from grazing wildlife) and combined with the mulch, eliminate the need for further watering even in very dry conditions.

We also allow natural regeneration to occur throughout the property, with different species of Eucalypt and Acacia already regenerating strongly after 5 years without livestock. 

We do not use any chemicals for weed control or grass suppression, relying on the mulch and the plant's resilience to ensure survival. Any weed control is by natural means such as solarising, hand weeding or mowing.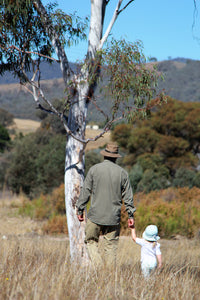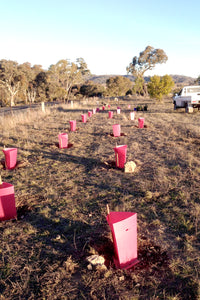 PLANTING FOR PEOPLE AND BEES
Inspired by our upbringing and the work of farmer friends, we grow some of our own food, participate in the 'barter/gift economy' with organic farmer friends, buy from and contribute to the local food co-op and plant as many trees and shrubs on our property as possible.

Although our property is not suitable for growing a great deal of food due to the poor soils and variable climate, we do grow some items in our raised beds. Much of our other food is sourced from local farmers and the co-op.

The urge to grow some food comes naturally, as we were both brought up with the philosophy of self-sufficiency and love of nature. We feel that it's important to grow some things as it is an important skill to have and to pass on to our children.
All food is grown organically and using sustainable practices such as heavy mulching and drip irrigation to minimise water usage, carbon footprint and reliance on inputs from outside the farm. Worm farms are used to process waste from the kitchen and the castings and tea are used to increase the soil health in our raised beds.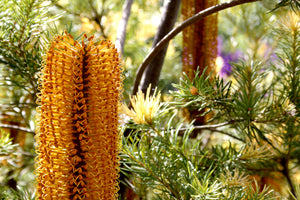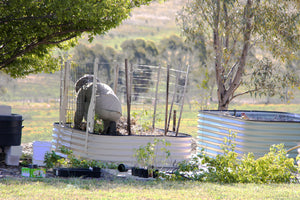 SUPPORTING OUR ENVIRONMENT AND LOCAL AND GLOBAL COMMUNITIES
We feel very strongly about supporting people doing great things for the world here and overseas, especially in areas/fields that we can't contribute to personally due to our location, lack of expertise or time. Here are some of the organisations we donate to on a regular basis.
AUSTRALIAN ORGANISATIONS
Australian Conservation Foundation
Get Up
Uluru Dialogues to Progress Voice, Treaty, Truth. *
Plan Australia
WIRES
Local Bushfire Brigades
INTERNATIONAL ORGANISATIONS
Greenpeace
Save the Children
Amnesty International
Sum of Us
Avaaz
* Malfroy's Gold accepts the invitation of the
Uluru Statement from the Heart
and supports a First Nations Voice to Parliament enshrined in the Australian Constitution.
For more information about this statement, please click the on the icon above or visit
The Uluru Statement.