photo © Michael Wee
'Instead of dirt and poison, we have rather chosen to fill our hives with honey and wax,
thus furnishing mankind with the two noblest of things, which are sweetness and light.'
The Battle of the Books, Jonathan Swift, 1704
Our Story
Malfroy's Gold and Natural Beekeeping Australia are pioneering, innovative small rural businesses delivering world class products and services with a focus on bee, environmental and community health.

We provide Wild Honey, Wild Honeycomb and Beeswax – all ethically and sustainably produced in bee-friendly Warré hives. Our methods exceed both organic and biodynamic standards and we are the only professional natural comb beekeepers in Australia.


We not only offer the highest quality honey and bee products from our hives, but also supply hand-made Warré hives and teach intensive educational courses. 
We feel that our bees are happier and healthier being kept in a hive that mimics how they live in nature. Our Wild Honey has won many awards and is sought out by some of the leading chefs in Australia.


We share our specialised knowledge of natural beekeeping with the public and with our beekeeping students and are often approached by the media and the food industry to speak on the subject at food related events.


Over the past ten years we have been thrilled to host aspiring natural beekeepers from around the world and watch as they kick-start the Natural Beekeeping movement in their own countries.
Malfroy's Gold
and
Natural Beekeeping Australia
are owned and operated by Tim and Emma Malfroy.
Tim is a world renowned, second-generation beekeeper who grew up on a large apiary in the foothills of the World Heritage listed Blue Mountains of NSW. He has been practicing organic, biodynamic and Natural Beekeeping since he started keeping his own bees in 2006.
In 2008 he was the first beekeeper in Australia to build and trial a Warré hive and travelled with Emma to Apimondia in France 2009 to take part in the first conference session on Warré and top-bar beekeeping.
Widely regarded as the pioneer of Natural Beekeeping in Australia, he is one of only a handful of professional Warré/Natural Beekeepers in the world, managing hundreds of Warré hives and specialising in producing Wild Honey and Honeycomb.
Tim also teaches his unique approach to apiculture to over 100 students a year in Australia through the
Milkwood Permaculture Natural Beekeeping Courses
.
In addition, he has personally instructed aspiring
professional beekeepers
from around the world who have traveled to Australia specifically to learn his method.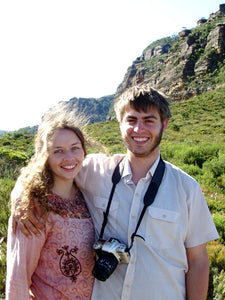 Emma grew up on a large property near Gloucester and the Barrington Tops in NSW. Her father was a forester, farmer and photographer and her mother's family owned and operated a large grazing property in the Central Tablelands of NSW for many generations.

Emma is responsible for the art design and administration for Malfroy's Gold. She takes the majority of the photos featured on this site and used in our promotional materials. She also designs and builds the website, develops tracking and reporting systems tailored to our beekeeping and administrative needs, designs promotional material and product labels, and manages the accounts and administration.

Their work together has been featured in numerous publications, including Les Routes Des Miel / Honey from the Earth, Organic Gardener, Smith Journal, Gourmet Traveller, Delicious, Country Style, The Field Guide, Sprout Magazine and international apicultural journals.

Their honey has won many awards and is used in some of the finest restaurants around Australia.
Tim has been active in engaging with the community and promoting natural beekeeping practises, native bees, permaculture and sustainability at numerous speaking events across NSW, from beekeeping association meetings and rural farm field days to film and book launches, producer-restaurant events and hospitality and organic trade shows. He has also been interviewed for publications including Organic Gardener, Sprout, the Field Guide and others and has also contributed to many articles on beekeeping.
As part of our aim to promote Natural Beekeeping and raise awareness about the unique qualities of
Wild honey
, we work closely with some of
Australia's leading chefs
, often hosting their teams at our apiaries in the
Blue Mountains
where they are able to understand in more detail the bee friendly process in the natural environment, experience the terroir and taste the result of the bees' work.
Please see our
Articles and Research
and
Media
pages for links to publications featuring Tim and Malfroy's Gold.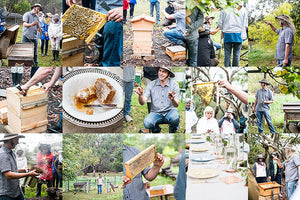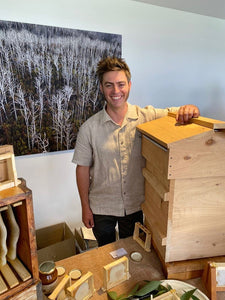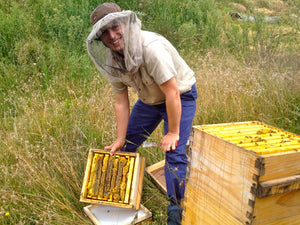 We started with two Langstroth hives in in the early 2000's and managed a small number of experimental hives over a number of years while Tim was working part-time in his father's operation (1,000 organically managed Langstroth hives and 1,000 queen rearing nuc's), teaching and performing music and operating a small honey label supplying rare mono-floral varieties of honey.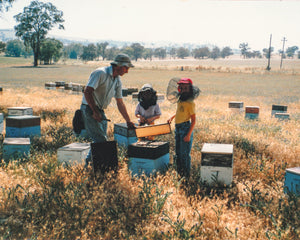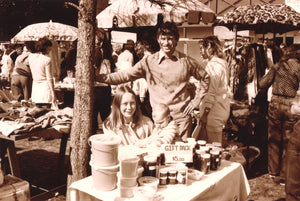 It wasn't until 2008, when we read an article about the Warré hive that Tim had a 'Eureka' moment and decided to trial the hive in Australia. We travelled to Apimondia (world beekeeping congress) in Montpellier, France in 2009 to attend the first conference session on Warré and natural comb beekeeping.

Returning home, the first Warré hives were built and populated with swarms in 2009-10 and showed very promising results. It took around 5 seasons of trial and error and expanding colony numbers before any honey produced from these hives was commercially available.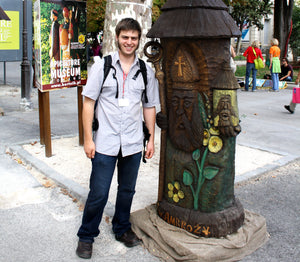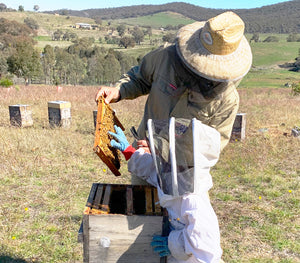 Warré hives were not available to purchase in Australia, so Tim had to redesign the hive for Australian conditions and build all the hives from scratch (including sourcing sustainable salvaged timber for the hives), eventually enlisting his friend Bernhard Koch, a woodworker and permaculture farmer in the Blue Mountains, to make all the hives and components.

At this stage, any surplus Wild Honey and Wild Honeycomb frames were sold direct to customers at markets, and select restaurants and chefs in Sydney who were excited by the flavour and the ethical practices.
During this time, we ran dozens of Natural Beekeeping courses across NSW with our friends Milkwood Permaculture to increase knowledge about this style of apiculture and raise awareness about the plight of bees. The courses always sold out and kick started a grass roots revolution in alternative ways of keeping bees in this country.
We lost a third of our developing hives in a large bushfire in the Blue Mountains in 2013, but quickly rebounded and continued to increase apiaries and hives, with the help of aspiring professional beekeepers from Australia and around the world who came to offer seasonal help in exchange for knowledge and experience. Many of these beekeepers have gone on to start their own natural beekeeping businesses.
We continued to supply restaurants and select stores with Wild Honey and Honeycomb, but it wasn't until 2018 when we launched the Wild Honey retail range at the Lollaproducer trade event in Sydney that the product started to become more widely available in Sydney (thanks primarily to the support of our distributor Two Providores).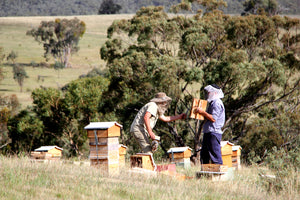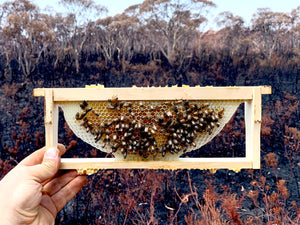 The Wild Honey started to gain notoriety and was awarded consecutive Gold Medals at the .delicious Produce Awards. We were honoured to have dishes built around the honey by some of Australia's best chefs, including Peter Gilmore (Quay) and Ross Lusted (Woodcut, Bridge Room).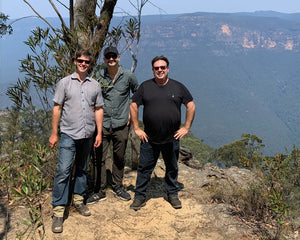 Recently, the record-breaking fires and floods of 2019/20 resulted in more hive losses and disruption to the landscape and business. We are hoping to be back to where we were prior these events this coming spring/summer (2021), although the bush may take decades to recover in places. Covid-19 has also had huge impact on the business, but conditions have been slowly improving with the support of our distributor, chefs and shops. We sincerely thank everyone for their support, as much of the profit the business generates goes toward making our small operation even more resilient and sustainable in the face of mind-bending climate changes and extreme weather events.

Starting from very humble beginnings 10 years earlier, and without any prior capital funds, we reached our goal of 300 Warré hives. We are currently the largest Warré hive operation in the world, although it is small compared with the average commercial beekeeping business. Other than hosting professional natural beekeepers from Europe for short periods during peak 'bee season', we do not have any employees and all the work, from the art design and coding the website to the bee husbandry, harvesting, processing and packaging of the products, is done in house.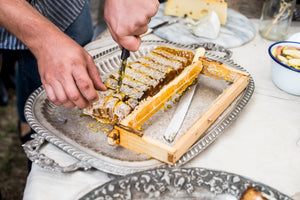 We look forward to continuing supplying the finest Wild Honey, Honeycomb and Beeswax to the community, increasing the health and well being of the bee colonies we care for and protecting the incredible landscapes we call home.
A DISTINGUISHED GENTLEMAN
The man featured on our Malfroy's Gold Honey label is the late Jean Michel Camille Malfroy(1839-97), a distinguished thermal engineer, gold miner, politician and inventor.

With his brother and father, Camille travelled from the Jura region in France to Australia and New Zealand during the 1800's in search of gold, making Rotorua on the North Island of New Zealand his home.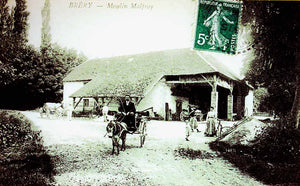 In 2007, Tim Malfroy was given the honour of unveiling a statue of Camille, created by sculptor George Andrews, as part of the Rotorua 'Art in Public Places' project.

The statue is located in the Government Gardens on Lake Rotorua and is part of an art fence that encloses the now dormant geysers Malfroy is synonymous with.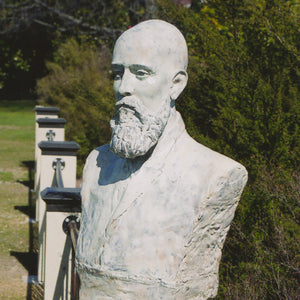 The fence, designed by Jamie Pickernell, is a celebration of Malfroy's work and also commemorates the fissure the geysers stem from known as Oruawhata, which the Maori tribes used as a burial pit for their warriors.