'Veiled in this fragile filigree of wax is the essence of sunshine, golden and limpid... Honey, even more than wine, is a reflection of place...
(it) is the flower transmuted, its scent and beauty transformed into aroma and taste'
Honey from Flower to Table, 2002, Stephanie Rosenbaum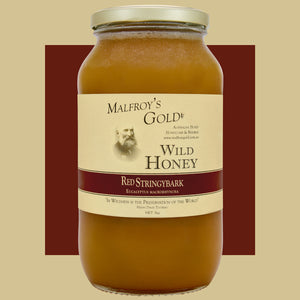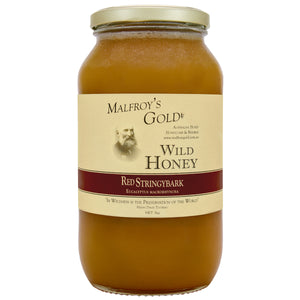 • Produced in bee-friendly Warré hives
• Produced from 100% natural comb
• Medicinally active (ranging from TA 21+ to TA 39+)
• Exceeds Biodynamic and Organic standards
• Cold pressed (not heated above bee colony temperature)
• Produced in permanent apiaries in isolated wilderness and woodland locations
• Honey is only sourced from our own 300 Warré hives
Tasting Notes by Mike Bennie
Mike Bennie, Australian Writer, Public Speaker and Wine Journalist
Instagram: @mikebennie101
Red Stringybark
Flavours: An incredibly rare honey sourced from honeyflows that come from flowers that emerge once every decade or two. Contains around half post brood combs and half virgin combs. More lemon myrtle and ginger to taste with distinct floral lift, some exotic spice, lots of caramel and toffee, almost rose hip tea-like characters, sweet but with that similar earthiness of the bouquet. Texture is amazing, concentrated, palate-staining and lifted with a barely-there pepperiness and again, that burr of granular chomp that feels almost suede. It feels nourishing and wildly delicious, something to be scoffed off your tablespoons.
Colour: Bronzed-gold
Texture: Almost chewy, with soft fudge-like texture yet a faint grainy smudge through it all
Aromas: Lemon myrtle, ginger, wattle seed, dried honeycomb and faint, sweet-earthiness
Your Red Stringybark honey is a true treasure! Aroma like maple syrup and taste is similar also! I think I have to contend with my wife for this one as she has claimed it as her own. Who would have thought that something that tastes so wonderful could in-fact be your highest medicinal rating to date!? Very special honey, from some very special people. Once again I must acknowledge the fact even though your honey is rarer, due to the flowering season being 4-8 years in which your bees can harvest the nectar of the Red Stringybark, and that you have a very high medicinal rating, you remain firm on your selling price. Good, honest hard working people.

Mitchell, Mt Isa, April 2022
My order of red stringybark honey arrived today. I wanted to let you know I think it us absolutely delicious. Many many thanks to you and the bees. It is very comforting to know you are there producing such a high quality product.

Hilary, Invergowrie, April 2022
I'm sitting at home here in Leichhardt with a slice of toasted bread slathered very generously with your delicious Red Stringybark wild honey. It's a cool morning and the slightly creamy consistency just added to the deliciousness. I think I can probably get a higher honey to toast ratio this way! Keep up the great work! It's a pleasure knowing there are people like you out there producing these amazing products.

Nat, Sydney, June 2020
Many thanks for your wonderful and amazing products. They have changed my health and life for the better.

Lorrae, Melbourne, September 2019
I have recently discovered your honey and just wanted to say thank you as it is the most delicious thing I have had…Really it's amazing. Also I read everything and more about the medicinal qualities so it's guilt free eating too...Thank you for doing what you do!

Briony, Sydney, February 2022
Wonderful stuff, totally unlike anything I've had before. Definitely a future pantry essential

Tim, Blue Mountains, August 2019
• Produced in bee-friendly Warré hives
• Produced from 100% natural comb
• Medicinally active (ranging from TA 21+ to TA 39+)
• Exceeds Biodynamic and Organic standards
• Cold pressed (not heated above bee colony temperature)
• Produced in permanent apiaries in isolated wilderness and woodland locations
• Honey is only sourced from our own 300 Warré hives
~ ~ •*• ~ ~
Growing on elevated hills of the Central Tablelands at altitudes of 800 to 1100m (in an extreme climate with highly variable rainfall), the honey produced from Red Stringybark woodlands is one of the finest in Australia.
Only once every four to eight years will this tree flower, enlivening our bees to collect her rich, amber nectar during late summer and occasionally into early autumn. Surplus yields are only possible every second or third flowering cycle, meaning that harvests only occur once every decade or two.
Produced in bee-friendly Warré hives from 100% natural comb, this honey is a true rarity with a deep amber colour and a rich, spicy, toffee-like flavour with smoky, earthy undertones. This particular harvest is a mix of honey pressed from virgin comb and 5 year aged post brood comb, giving it an incredibly pollen-rich, sumptuous quality and thick, creamy texture. A truly epicurean terroir honey for savouring.

Pure Red Stringybark honey is exceptionally high in mineral content and has the second lowest GI rating of any Australian honey (44). Our Red Stringybark has been independently tested and has an extraordinary high medicinal rating of TA 39+!

As our Wild honey is genuinely cold pressed from virgin comb it may be crystallised in the jar. Cold pressed honey often has a cloudy or opaque appearance and soft, thick, even texture with finely grained crystals.
Storage Instructions and Important Information
Store in a cool, dry and dark place. Best temperature range for storage and serving is between 15 and 25°C.
Our Wild Honey is bottled in glass jars and all orders are sent with Australia Post's 'special wine order - fragile' tape attached, which notifies Australia Post employees to carefully handle the parcel. We also take great care in packaging the product securely for transit.
Wild honeys from Warré hives contain bee bread (pollen fermented by beneficial bacteria) and propolis showing proven antioxidant and medicinal activity. In extremely rare cases, pollen can cause allergic reactions.
Please note: As our honey is seasonal, wild, harvested from small apiaries, and bottled in micro batches, natural variation in colour, texture and pollen richness will occur from batch to batch. The honey you receive may be a slightly different colour from that pictured above but is the same variety. We do not overheat, filter or homogenise our honey to make every jar uniform in colour and texture as that damages the nutritional integrity of the honey.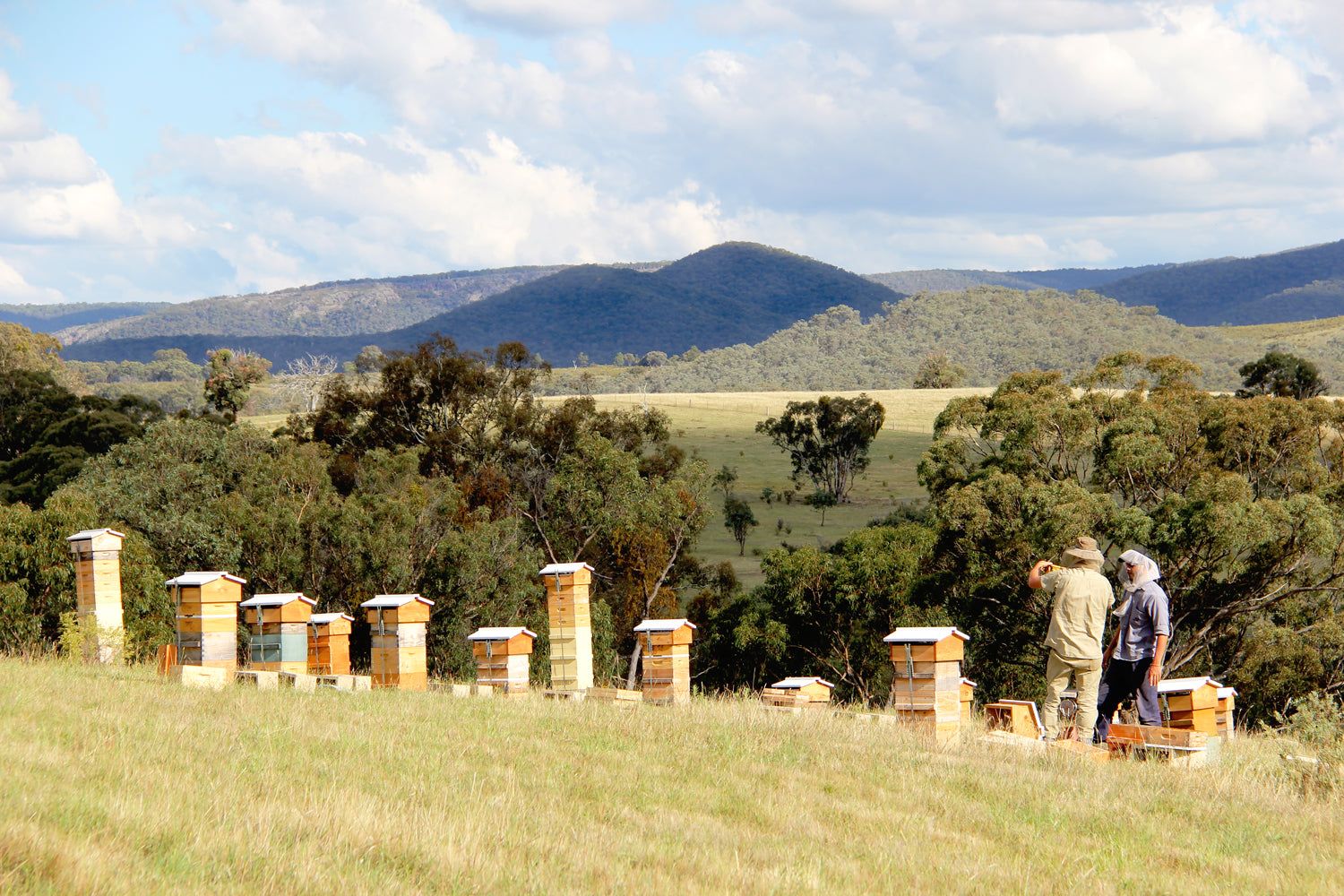 Malfroy's Gold Warré Apiary, Central Tablelands NSW
Tasting Notes by Mike Bennie
Mike Bennie, Australian Writer, Public Speaker and Wine Journalist
Instagram: @mikebennie101
Red Stringybark
Flavours: An incredibly rare honey sourced from honeyflows that come from flowers that emerge once every decade or two. Contains around half post brood combs and half virgin combs. More lemon myrtle and ginger to taste with distinct floral lift, some exotic spice, lots of caramel and toffee, almost rose hip tea-like characters, sweet but with that similar earthiness of the bouquet. Texture is amazing, concentrated, palate-staining and lifted with a barely-there pepperiness and again, that burr of granular chomp that feels almost suede. It feels nourishing and wildly delicious, something to be scoffed off your tablespoons.
Colour: Bronzed-gold
Texture: Almost chewy, with soft fudge-like texture yet a faint grainy smudge through it all
Aromas: Lemon myrtle, ginger, wattle seed, dried honeycomb and faint, sweet-earthiness