'Veiled in this fragile filigree of wax is the essence of sunshine, golden and limpid... Honey, even more than wine, is a reflection of place...
(it) is the flower transmuted, its scent and beauty transformed into aroma and taste'
Honey from Flower to Table, 2002, Stephanie Rosenbaum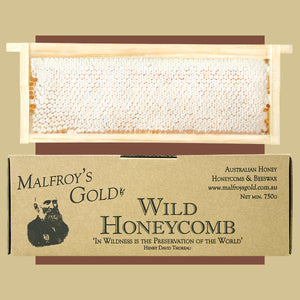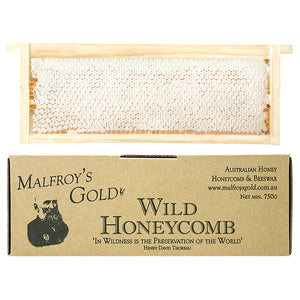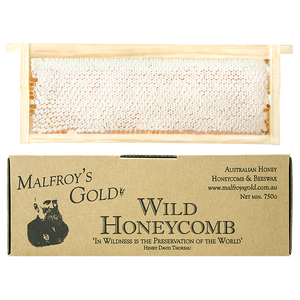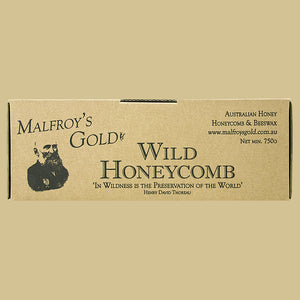 • Produced from bee-friendly Warré hives
• Produced from 100% natural comb
• Medicinally active
• Exceeds Biodynamic and Organic standards
• Permanent apiaries in isolated wilderness and woodland locations
• Honey is only sourced from our own 300 Warré hives
• Delicious Produce Awards State winner
We just returned to the US after visiting Sydney and while there we stayed in a hotel that served your honeycomb with their breakfast and I must tell you it was the most delicious thing I have ever eaten! The honeycomb itself was so thin and scrumptious! Thank you and again...Fantastic Honeycomb!

Pam, USA, December 2019
The honeycomb regularly features on my menus. A favourite is a chunk of Malfroy's Gold honeycomb just cut from the frame with Roquefort cheese. A match made in heaven.

Mike McEnearney, Kitchen by Mike, Sydney, February 2011
Thank you for your efforts and making available to us a product in a class all by itself!

Susan, Australia, July 2018
Just letting you know I received the honeycomb on Friday afternoon and spent the weekend feeding it to my family and myself. We all loved it. It is obvious to me now that this is the way that honey should be consumed. Thanks again for all your help and I look forward to the Beekeeping course in a couple of weeks.

Scott, Australia, February 2012
G'day Tim, Received in excellent order your Malfroy's Gold wild honeycomb, top shelf product and very robust packaging; we intend to indulge and look forward to doing business with you again

Ken, South Australia, March 2018
The stand out on the board was the mountain of Malfroy's Gold honeycomb with roasted hazelnuts from Mudgee, NSW. We learnt about the combination from the super-talented caterer and devoted foodie, Rachael McCarthey. I suggest you try this combo, combined with the cheeses - it was a flavour like no other.

Briar, Sydney, August 2010
• Produced from bee-friendly Warré hives
• Produced from 100% natural comb
• Medicinally active
• Exceeds Biodynamic and Organic standards
• Permanent apiaries in isolated wilderness and woodland locations
• Honey is only sourced from our own 300 Warré hives
• Delicious Produce Awards State winner
~ ~ •*• ~ ~
Wooden section of Wild honeycomb harvested from bee-friendly Warré hives in the Central Tablelands of NSW.
Only once every four to eight years will this tree flower, enlivening our bees to collect her rich, amber nectar during late summer and occasionally into early autumn.
Surplus yields are only possible every second or third flowering cycle, meaning that harvests only occur once every decade or two.
Growing on elevated hills of the Central Tablelands at altitudes of 800 to 1100m (in an extreme climate with highly variable rainfall), the honey produced from Red Stringybark woodlands is one of the finest in Australia.
Biting down on a rich, sticky piece of our wild honeycomb is a unique gastronomic experience; the wonderful flavour and aroma of pure honey is amplified when preserved in the thin wax chambers of the comb.
The health benefits of eating honeycomb outweigh liquid honey, as all the natural elements are preserved and no heat has been applied at any stage of harvesting or processing.
The wax is also virgin wax, produced entirely by the bees to store the precious nectar. In contrast, most other honeycomb producers in Australia give the bees a thick artificial 'starter' sheet of beeswax which increases yield but greatly decreases the flavour, texture and purity of the end product.
When eating comb, it is easy to appreciate and savour the true essence of honey and marvel at the wonder of nature in producing such a perfect food. The slight waxy residue that remains after eating the comb is entirely natural and can be chewed like gum, while the sweetness lingers.
Honeycomb can be eaten as a whole food, spread on toast, broken over Greek yoghurt with fresh walnuts or figs, crushed over porridge and muesli, or used as an interesting addition to any fine cheese platter or dessert.
Our Wild Honeycomb is a Delicious Produce Awards 'State Winner' and Gold Medal Winner at the Sydney Royal Easter Show.
Storage Instructions and Important Information
Store in a sealed container. Best temperature range for storage is between 15 and 25°C, best serving temperature is between 20 to 25°C.

Wild Honeycomb may contain pollen which, in extremely rare cases, can cause allergic reactions.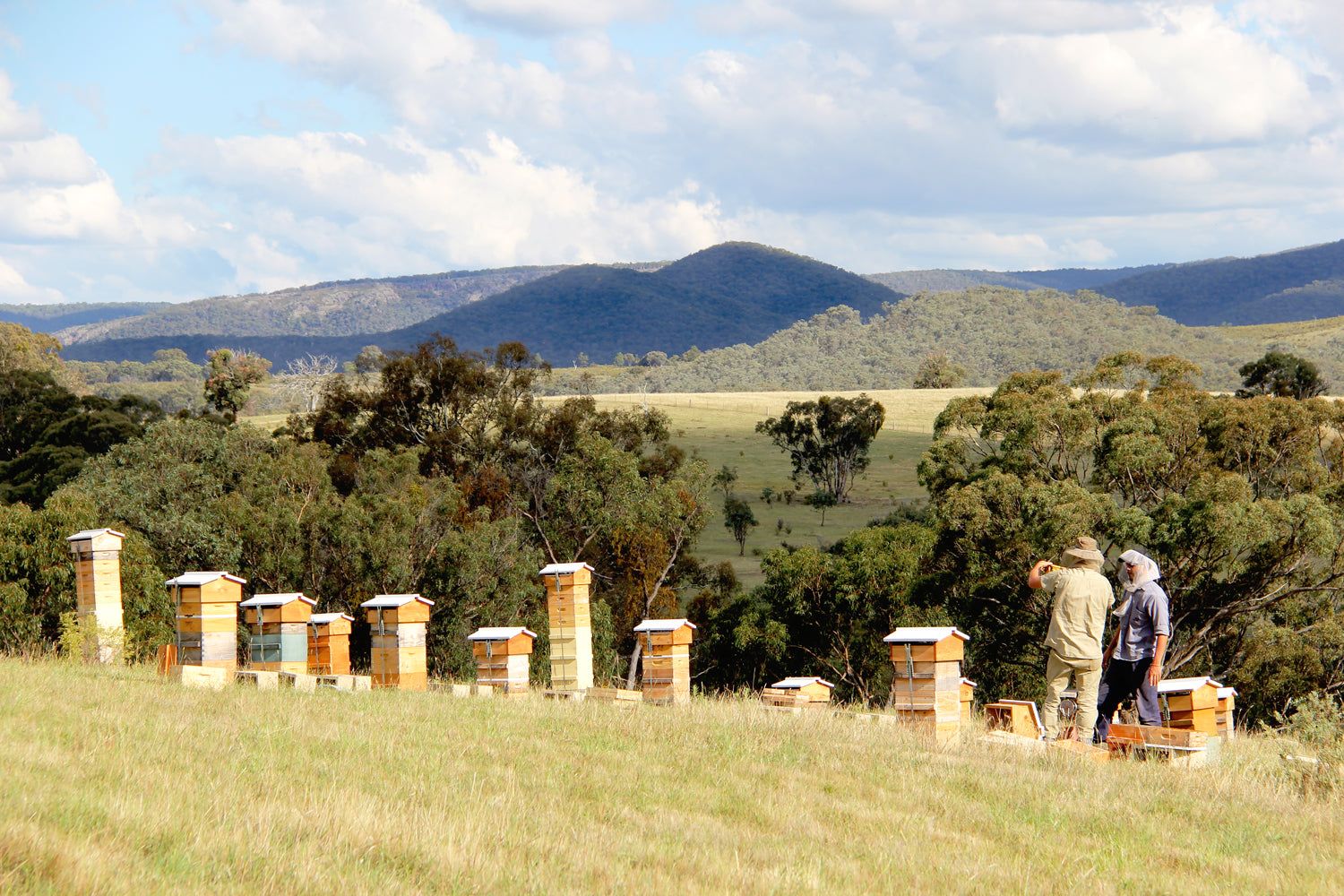 Malfroy's Gold Warré Apiary, Central Tablelands NSW